The past decade saw Vietnam's Communist government relax controls and move towards deregulation, attracting both domestic private enterprise and foreign direct investment. If Vietnam can maintain their annual growth rate of 6.5%, they will surpass Singapore's GDP by the end of the decade should the latter continue to grow at a slower rate of 2.5%. Though there has been investor confidence in the Southeast Asian country, the Socialist Republic's tenuous relationship with water resources threatens to stagnate the country's continued development.
Vietnam's natural endowment of water has been closely linked with their economy and to the Vietnamese way of life. Vietnam was the world's fifth largest producer of rice in 2018, producing 44.2 million tons of the water-intensive crop. In addition, the country's diet is largely centered around rice and seafood, with fish being the primary source of protein. The country's energy mix is also heavily water-reliant with 37% of its electricity coming from hydroelectric sources. In fact, their current 17-gigawatt generation capacity is slated to reach 25.4 gigawatts by 2030. The country also boasts 10,200 cubic meters of renewable freshwater per capita, which is an impressive statistic by global comparisons.
Though Vietnam's water resources may be plentiful, the supply faces operational, geopolitical, environmental risks. For example, of the 97 million-strong population, 8.5 million urban dwellers and 41 million people in rural areas lack access to a clean water supply. Even in the comparatively well-developed Ho Chi Minh City, a quarter of the 8 million residents in the country's biggest city rely on water tankers as the primary source of water. Issues involving water access will only be exacerbated by a steadily growing population and the impact of climate change. By 2030, 11 of Vietnam's 16 water basins will be under water stress in the dry season. Another challenge is that two-thirds of Vietnam's water supply stems from beyond the country's boundaries, limiting their ability to directly manage the resource. For example, the three longest rivers in Vietnam – the Mekong, the Song Hong, and the Song Da – all originate in China and are therefore susceptible to upstream decisions. Of the country's ten longest rivers, only two reside completely within sovereign territory. Vietnam is also vulnerable to water-related natural phenomena, with the country experiencing increasing levels of both floods and droughts. Over 70% of the population lives in coastal areas or river deltas, making it one of the top five most hazard-prone countries in the world for riverine and coastal flooding.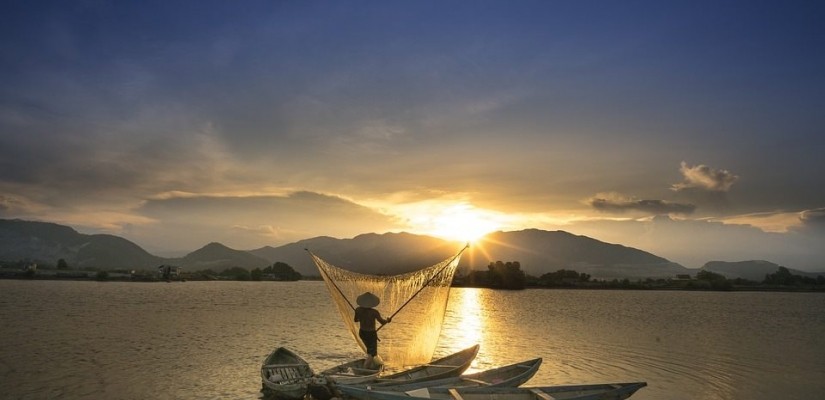 Considering the many environmental concerns, Vietnam has a vested interest in managing its water resources in a sustainable manner. A recent report conducted by the World Bank stressed several key points in helping Vietnam establish a resilient water system. Beyond investing in water management and delivery infrastructure, the government should focus on wastewater collection, treatment, and reuse, and promote the responsible and efficient use of water. The report also concludes that 92% of the country's water is used in agriculture and aquaculture and that Vietnam is using this resource ineffectively. At present, for each cubic meter of water, Vietnam produces $2.37 of GDP, which is significantly less than the global average of $19.42. For Vietnam to increase the value produced by water, it must diversify away from paddy crops such as rice, towards more water-efficient, high-value agricultural crops. With the looming threat of climate change, it is imperative that the government invests in risk reduction, preparedness, and resilience. This can be achieved by improving flood and drought monitoring, creating a robust insurance mechanism for water-related risks, and adopting best practices in land and agricultural management. To manage geopolitical risks, Vietnam should also expand the use of multilateral channels such as the Mekong River Commission, which provides a forum to jointly manage shared water resources.
While significant investment is needed to ameliorate the country's water security issues, it also provides an opportunity for domestic and foreign investment in the country, especially as the government eyes the expansion of public-private partnerships. In addressing these issues, Vietnam has the opportunity to continue on its path as ASEAN's rising star.