GRI IS A BOUTIQUE RISK ADVISORY FIRM
Global Risk Intelligence is a boutique risk advisory firm. GRI navigates complex global risk issues and provides solutions for clients. GRI is committed to helping clients improve operational excellence by better understanding current and unperceived threats, ensuring that they are resilient in an increasingly uncertain era.
Global Risk Intelligence is headquartered in Washington, DC with a network of resources located throughout Europe, Africa, Asia and the Americas. All GRI resources hold at least a Master's degree and are considered experts in their specific field such as risk management, defense & security, energy, and construction.
AI-Powered Risk AdvisoryTM
GRI helps organizations anticipate, assess and advise on the impact of global risk to your operations.

"It's critical that companies base their decisions
around risk on facts and not assumptions."
Dr. Nadir Gohari
President & CEO
Our clients rely on our expertise to understand and manage risk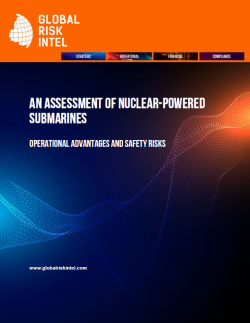 Nuclear-powered submarines have been utilized by the militaries of the US, Russia, the UK, and China for…
Learn More