Host to natural gas reserves worth an estimated USD 700 billion, the Eastern Mediterranean basin has been a point of contention as Turkey, Greece, Cyprus, and other countries seek access to this valuable resource. The situation has grown exponentially more complex with the inclusion of a new natural gas pipeline that would extend from Israel to Greece across the disputed waters, and an agreement between Turkey and Libya to block the pipeline in exchange for military cooperation.
Natural Gas Competition
Eastern Mediterranean natural gas fields first discovered in 2009 are estimated to contain 112 trillion cubic feet of natural gas reserves, equivalent to roughly 21 billion barrels of oil. The Aphrodite gas field alone is expected to contain USD 9 billion in exportable natural gas. Regional players have been competing over exploitation rights and the distribution of this valuable resource, sometimes nearly resulting in open naval conflict. All parties involved are incentivized to take advantage of the natural gas deposits within their territorial waters as the demand for energy is likely to rise and countries will need to seek additional sources.
Turkey, seeking to reduce its dependence on outside energy sources, has been increasingly active in the Mediterranean Sea. Turkey and its primary rival, Greece, have quarreled over territorial disputes in the eastern Mediterranean for decades, including conflict over the still divided island of Cyprus, which has been partitioned between Greek Cypriots and Turkish Cypriots since 1974. To date, the island is split between the mostly ethnically Greek Republic of Cyprus and the Turkish Republic of Northern Cyprus, while only the former is recognized by the international community. In turn, Turkey does not recognize the Republic of Cyprus nor the island's exclusive economic zone (EEZ) - the maritime area in which a country has the right of energy exploration and use of marine resources. In past years, Turkey has used naval vessels to escort its natural gas exploration ships off the coast of Cyprus, leading the EU to sanction Turkey in July 2019.
Competing Factions
Competition over these natural gas fields is largely split between two factions: one is made up of Greece, the Republic of Cyprus, and Israel which are supported by Egypt, France, and the United Arab Emirates; the other faction consists of Turkey, Qatar, and the Libyan Government of National Accord (GNA). In addition to competition over access to the natural gas, these factions are also divided over a proposed natural gas pipeline, called the EastMed pipeline, which would transport gas from Israel to Europe through the Mediterranean Sea. Turkey, with help from Qatar and Libya's GNA, seeks to stop this pipeline from being realized.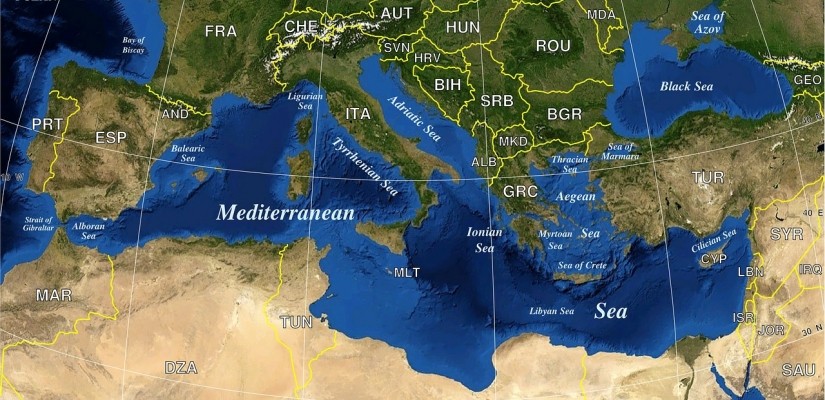 The EastMed Pipeline
Announced in January 2020 and scheduled for completion in 2025, the EastMed pipeline is a roughly USD 8 billion project that would transport natural gas from Israel through Cypriot waters to Greece, then on to Italy and the rest of Europe. The pipeline is expected to provide around 10% of the European Union's natural gas needs, allowing the bloc to limit its dependence on Russian natural gas. Turkey is starkly opposed to the EastMed pipeline, given that it would be a direct competitor to TurkStream, a natural gas pipeline project connecting Russia to Turkey through the Black Sea, also supplying natural gas to Europe. Turkish President Recep Tayyip Erdogan has stated that "Greek Cypriots, Egypt, Greece, and Israel cannot establish a natural gas transmission line without Turkey's consent." Construction of the EastMed pipeline will prove difficult considering Turkey has made an agreement with Libya's GNA for increased control over disputed waters in the Mediterranean Sea.
Turkey's Military Involvement in Libya:
In November 2019, Turkey signed an accord with Libya's GNA to create an EEZ from Turkey's southern Mediterranean shore to Libya's northeast coast cutting through zones claimed by Greece and Cyprus, effectively redrawing maritime borders to Turkey's advantage. Then in January 2020, Turkey agreed to send troops and military equipment to aid the GNA in their conflict against the Libyan National Army (LNA), which had been largely successful due to support from the UAE, Saudi Arabia, Egypt, Russia, and France. With military assistance from Turkey and Qatar, the GNA has been successful in pushing LNA forces back from the capital of Tripoli. In exchange for this military assistance, Turkey claims greater control over disputed waters and the ability to block construction of the EastMed pipeline.
Responses to the Turkey-Libya Deal:
Greece, Cyprus, Israel, Egypt, the European Union, and the United States have all rejected the Turkey-Libya maritime agreement, claiming that the deal is not compliant with the United Nations Convention on the Law of the Sea (UNCLOS). Greece has since expelled Libya's ambassador in Athens and has filed a complaint with the United Nations. Similar to the Turkey-Libya agreement, Greece and Italy signed an agreement in June 2020 demarcating their maritime boundaries in the Ionian Sea with an EEZ. The Greece-Italy agreement is based upon a 1977 continental shelf agreement that extends maritime rights to islands. In contrast, Turkey denies that islands are entitled to a full EEZ. In addition to clarifying maritime borders, the Greece-Italy deal serves to check Turkish ambitions in the Mediterranean Sea.
Repercussions:
The overall situation has undoubtedly strained intra-NATO tensions, given that both Greece and Turkey are active members. Turkey's relationship with the EU has also further suffered, reducing Turkey's chances of joining the bloc. Turkey's relationship with Russia has also received an additional layer of complexity as the two countries now appear on opposing sides of conflict in both Syria and Libya. However, Russia and Turkey are likely to avoid strained relations given their shared energy interests and Turkey's purchase of Russian military equipment. In addition, Turkey has now forged a strong relationship with Libya's GNA, and will receive benefits related to energy security in exchange for providing military support.
Concluding Thoughts
Competition for energy in the region will continue unless the parties involved can agree on a method of regulating the exploitation of major resources. Given the economic and geopolitical complexities in the region, it appears unlikely that a diplomatic resolution will be reached. It is more probable that one party or group will emerge as the dominant player and receive the majority of the benefits. With this in mind, it remains to be seen if the EastMed pipeline will ever see completion. Completion of the EastMed pipeline would be a success for Europe which seeks alternatives to Russian natural gas. While Turkey's seemingly more aggressive ambitions have made it a dominant regional player, the country risks shifting further away from its NATO allies toward Russia, a partner that welcomes the transition.