The rise of blockchain technology is altering the ways of service exchange and asset trading. Blockchain technology is the fundamental technology that supports the operation of cryptocurrencies, but the potential of this new technology may be far greater than first perceived. One of the most important features of blockchain technology is that all the information is fully transparent, meaning that every transaction occurring within the system is unchangeable by others and can be traced back in real-time. Blockchain technology is now being further embedded in various aspects of services such as digital payment, document authentication, asset securitization, commercial insurance or supply chain management. 
After three years of testing and billions of RMB spent, a more unified and orderly market for blockchain-based companies has been created in China, especially after the Cyberspace Administration of China (CAC) issued the Administrative Provisions on Blockchain Information Services on January 10, 2019. The CAC formulated these rules based on the Cybersecurity Law passed in 2016, the Administrative Measures for the Internet Information Services issued by the State Council in 2000, and a 2014 State Council circular authorizing CAC the power to regulate internet information contents in China. The Administrative Provisions are the first set of rules in China that targeted the use of blockchain technology. With the requirement of authenticating the identity of users, the Provisions are expected to give those companies more creditworthiness and to protect consumers' interests. 
Following the footsteps of the federal government, local governments in 12 provinces across China have issued relevant documents to support the blockchain innovation. As the leading cities in China, Beijing and Shanghai have the biggest share of Chinese blockchain companies, with 41% and 17% respectively according to Dataqin's statistics, followed by Guangdong, Zhejiang and Jiangsu provinces. As the capital city in Guangdong province and one of the top four cities in China, Guangzhou built up a blockchain industrial park in the Guangzhou Huangpu Development District in 2017. In contrast to Shanghai which focuses more on the application of blockchain in the financial industry, Guangzhou is more open to many other kinds of blockchain innovation, having raised $145 million of investment funds in March 2019. Racing to grab a share in the blockchain industry, the capital city of Jiangsu province, Nanjing, set up another $1.5 billion of aggressive investment funds in July 2018 in order to assist blockchain startup companies in their transition to the city.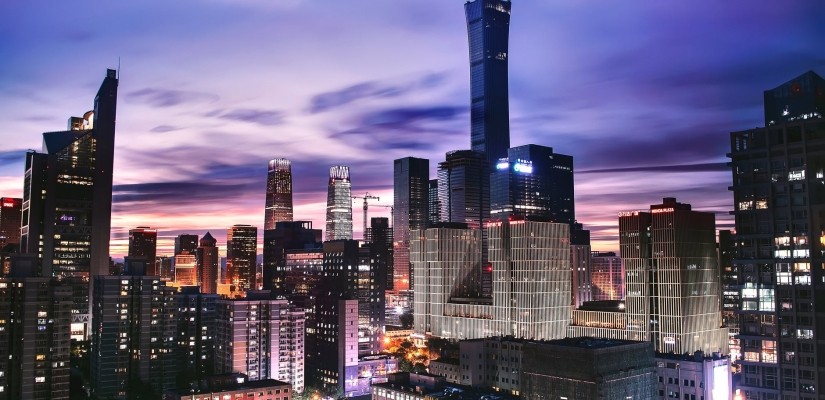 Hangzhou and Shenzhen are particularly important in this new round of competition in the blockchain industry. With strong support from large Chinese conglomerates like Alibaba and Tencent, Hangzhou and Shenzhen are both pioneers in promoting blockchain technology and are thus very attractive for blockchain-based companies. According to the 2017 Global Blockchain Enterprise Patent Rankings published by IPR Daily, Alibaba is holding the most blockchain patents in the world with up to 49 in total. On April 4, 2018, Hangzhou established a blockchain industrial park with $1.5 billion in investment funds. In order to provide sufficient high-tech educated talents for the blockchain industry, Zhejiang University established a blockchain innovation center in 2018 and started to offer blockchain-related courses for both undergraduates and graduate students. With such support from the Hangzhou government and academic institutions, 29 out of 55 blockchain start-up companies have gained first-round financing, providing services not only in finance but also in entertainment, gaming, social media, and others. 
Shortly after Hangzhou, Shenzhen also took actions to step in the blockchain competition. Since Shenzhen has utilized its unique geographic location and taken advantage of its manufacturing capabilities, the booming market in blockchain mining machinery helped Shenzhen to initiate its first exploration in the blockchain industry. On April 22, 2018, Shenzhen established China's first blockchain venture capital fund with at least $79 million to serve as angel funds and invest in promising blockchain projects. Similar to Hangzhou, many academic institutions in Shenzhen have also set up blockchain-related courses or blockchain-based programs. Other than offering blockchain education, these universities have built up their own research and development (R&D) centers as well, including Shenzhen University and Southern University of Science and Technology. Besides these two local universities, other top Chinese universities have also chosen to set up their own innovation centers in Shenzhen, such as the Research Institute of Tsinghua University in Shenzhen, the Peking University Shenzhen Graduate School, and the Shenzhen Research Institute of Sun Yat-sen University. With the strong support of government and a greater supply of blockchain experts, Shenzhen became the third largest blockchain center in China with about 59 start-up blockchain projects. 
Since blockchain projects are typically costly to maintain, a greater number of potential opportunities can be achieved by larger companies. For example, Tencent has built up a complete blockchain infrastructure, and part of its infrastructure has already opened to the public. In March 2019, the Shenzhen Metro system launched China's first blockchain-based electronic invoice system for an urban rail network. This invoice system developed by Tencent is linked to its WeChat app, helping passengers to better manage their ride records. Another technology giant, Huawei, has also dabbled in blockchain technology and launched its Blockchain Service (BCS), which is a cloud service helping global users to create, deploy, and manage blockchain applications.
The blockchain industry in China is expanding significantly, and a huge number of funds are being invested in different blockchain-based services hoping to take preemptive action but risks still exist in the blockchain market. So far, the main funding resources for blockchain companies still come from angel investors. Those angel funds are relatively small in size and are more likely to be one-time investments. Also, although many local Chinese governments have set up their blockchain funds, it is unknown how many blockchain companies have actually received the fund. As the latest released provisions are the first set of rules for blockchain companies, more detailed regulations are needed to avoid financial fraudulency and abuse of blockchain techniques. All these destabilizing influences remind investors to be cautious when exploring the Chinese blockchain market.