Under the direction of President Vladimir Putin, Russia has established itself as a world leader in arms sales. Through the sale of its advanced conventional weapons (ACW), Russia is forging new relationships and reinforcing old alliances. Opposed to this conduct, the United States has placed sanctions on numerous Russian entities. Nevertheless, the sale of Russian ACWs persists and may even increase in 2020. Identifying the sanctioned entities involved and the countries most eager to purchase Russian ACWs could prove valuable insight for those in the defense and security industry.
Understanding the Sanctions
On August 2, 2017, President Donald Trump signed into law the Countering America's Adversaries Through Sanctions Act (CAATSA). Generally speaking, CAATSA is intended to discourage cooperation with Iran, North Korea, and Russia. Section 231 of this act pertains to persons engaging in transactions with the intelligence or defense sectors of the Government of the Russian Federation. Thus, CAATSA allows the United States to act against entities engaged in the manufacturing, sale, or delivery of Russian ACWs. ACW systems include, but are not limited to, Man-Portable Air Defense Systems (MANPADS); major weapons systems and heavy military equipment such as tanks, aircraft, and missiles; sensors and lasers; and precision-guided munitions. A note of critical importance is that CAATSA allows the United States to target those who collaborate with illicit entities. Consequences of noncompliance can include freezing finances, restricting exports, seizing property, and denying visa travel.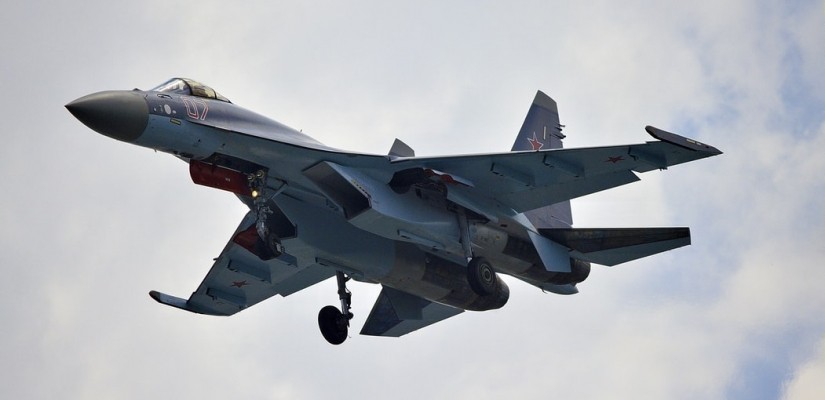 Illicit Entities
Included in the long list of sanctioned Russian entities are Russia's elite weapons manufacturers: Almaz-Antey, United Aircraft Corporation, Tactical Missiles Corporation, Russian Helicopters, Uralvagonzavod, and United Shipbuilding Corporation.
Almaz-Antey Air and Space Defense Corporation JSC

develops air defense systems such as the S-400 surface-to-air missile system. The S-400 has already been purchased by China, India, and NATO member Turkey. Its predecessor, the S-300 system, is operated by a long list of countries including Syria, Iran, Greece, Bulgaria, and Slovakia.

United Aircraft Corporation

develops fixed-wing airplanes such as the MiG-35 and the Su-57 fifth-generation fighter jet. Algeria is the first country to place an order for 14 of Russia's Su-57 jets.  Turkey, which was removed from the F-35 Joint Strike Fighter program by the United States, is considering purchasing the Russian fifth-generation fighter jet instead.

Tactical Missiles Corporation JSC

develops a variety of missiles including anti-radar, anti-ship, air-to-air, and naval-based missiles. Within the last five years, major clients of Russian missile technology have been China, India, Egypt, Iraq, Azerbaijan, and the United Arab Emirates.

Russian Helicopters JSC

develops attack helicopters such as the MI-35M or the MI-28N Night Hunter. The MI-35M has been sold to a multitude of countries including Azerbaijan, Brazil, Iraq, Kazakhstan, Nigeria, Serbia, and Uzbekistan. The MI-28N was sold to Iraq and Algeria in 2012 and 2013 respectively.  

Research and Production Corporation Uralvagonzavod JSC

develops Russia's main battle tanks like the T-90 and T-14 Armata. The T-90 is already operated by several countries including Algeria, Azerbaijan, India, Syria, and Vietnam. The more advanced T-14 Armata is reportedly being sought after by Egypt and India.  

United Shipbuilding Corporation

develops submarines, corvettes, frigates, and aircraft carriers. Since 2018, India has shown great interest in Russian naval vessels, purchasing four frigates and a nuclear submarine from Russia.
Russian ACW Trade in 2020
Considering past trends in Russia's arms trade, the top buyers of Russian ACWs in 2020 are likely to be India, China, Egypt, Algeria, and Iraq. Aside from traditional partnerships, however, Russia will likely continue to forge new relationships through the sale of ACWs, such as its growing association with NATO member Turkey. Moreover, Russia will use ACW sales to reinforce old alliances, such as its military alliance with Iran, Syria, and Venezuela.
Conclusion
While Russian weapons technology may seem appealing due to its high functionality and relatively low cost, these weapons come with additional risk as they are subject to US sanctions. Any entity considering partnering with or ordering from Russian weapon manufacturers should be cognizant of the risks associated with such a partnership. Entities collaborating with sanctioned weapon manufacturers are subject to financial penalties, export restrictions, property seizure, and visa denial.