More than just pieces of infrastructure that direct travelers onto planes, airports act as important investment ecosystems for numerous stakeholders. In our globalized economy, airports have become a central junction through which passengers, airlines, governments, airport operators, retailers, and other service providers all interact and connect, creating and facilitating a complex network of commerce and trade. As of 2016, the aviation industry supported around 3.6% of the world's GDP, and in 2018 alone around USD 6.8 trillion in goods were shipped by air. According to their data, the Airports Council International (ACI) expects passenger traffic to continue to grow at around 4% per year, reaching an incredible 20.9 billion by 2040. As passenger volume increases and airports around the world look to increase capacity, participants in the airport ecosystem from security providers and airlines to commercial retailers and local governments will be faced with more complex risks and numerous opportunities.
Trends over the past few decades such as airline privatization, aviation industry deregulation, and open skies agreements have increasingly turned airport planning and operation into an economic venture centered around cost-effectiveness, passenger traffic efficiency, and user-friendliness. Revenue generation and profit are becoming increasingly important, with almost 56% of airports' revenue coming from aeronautical-related charges such as landing and passenger fees for airlines. Non-aeronautical sources of revenue such as retail also remain a critical part of how airports make a profit, representing 39.9% of how airports make money. Within this framework, airports must strategize to attract airlines, passengers, and businesses in order to grow.
This means that airport operation including new security measures must be developed and implemented with passenger experience and comfort in mind. This guiding principle has increased demand for the application of new technologies such as AI, biometrics, 5G architecture, and the use of big data in different layers of the airport ecosystem. Dubbed "smart airports," airports such as Dubai International and Singapore Changi Airport seek to further integrate new tech with airport stakeholders to make security and commerce more seamless.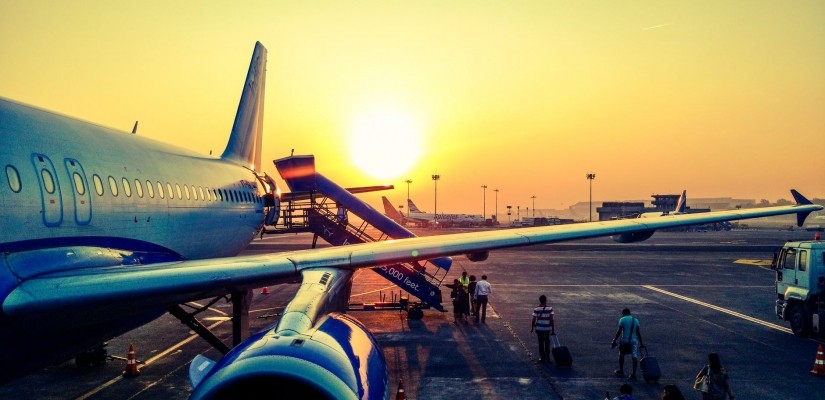 Airports are estimated to spend around USD 4.6 billion on information technology by 2023, creating both new opportunities and risks. Airports such as Beijing's Daxing International and the airline JetBlue are both using biometric systems such as facial recognition at various security checkpoints for passengers. In airports such as Dubai International, biometric technology implementation means that passengers will not need passports to go through check-in if they are pre-screened, making passenger flow more seamless.  Biometrics integrated with big data and surveillance technology such as video analytics will also allow airports at different junctures to efficiently screen for security threats. While these new technologies have many benefits, they also raise serious ethical issues related to privacy and profiling, creating substantial risk. Furthermore, as complex systems and stakeholders integrate through more advanced technology, cybersecurity risks likewise become more complex and will require new and more nuanced solutions.
With retail being an important part of how airports make money, businesses and airport operators must find ways to improve passengers' shopping experiences, especially as passenger volume is projected to steadily increase in the next few decades. Brands and stores in airports are in a unique position in which passengers have a few hours to peruse airside shops in a relatively limited space while waiting for their next flight (sometimes called "dwell time"). Over the past ten years, airport operators have increasingly organized airport layouts to steer passengers through concessions in order to maximize brand exposure and sales. In one study,  sales of luxury items in airports grew 11% in 2019 to almost USD 20 billion. However, the biggest upcoming trends in airport retail are digital, through e-commerce and personalized shopping. As travelers access WiFi, airports can collect data on consumer behavior and preferences to create targeted retail offers and advertisements. Airports such as JFK are also utilizing technology to create VR-based entertainment experiences to make dwell time more enjoyable and generate revenue. In the future, airport operators, airlines, retailers, and technology companies can use data to engage consumers throughout the airport ecosystem.
Nevertheless, the airport industry still faces major risks in the coming years. As actors within the airport ecosystem become more varied and technology more intricate, managing and protecting data from cyber-attacks will become more important than ever. While government regulations try to keep up with developments in technology and cyber threats, compliance risks are also an issue for those in the airport industry. Reputational risks have also arisen due to the increased association of flying with carbon emissions and climate change. Finally, more specific but serious threats such as the global coronavirus (COVID-19) pandemic have led to airlines and governments shutting down flights worldwide. This has crippled both airlines and consumer demand in the first quarter of 2020. As of March 2020, airports in the UK are even threatening to shut down if no government assistance is provided. In the United States, the airline industry is also requesting a bailout as it faces a meltdown in the wake of the coronavirus. National travel bans to slow down the spread of the virus could seriously debilitate airlines and airports.  Nevertheless, the airport ecosystem is still a vital part of the global economy and the site of new innovations from different industries. At the same time, however, this presents significant risks as well.