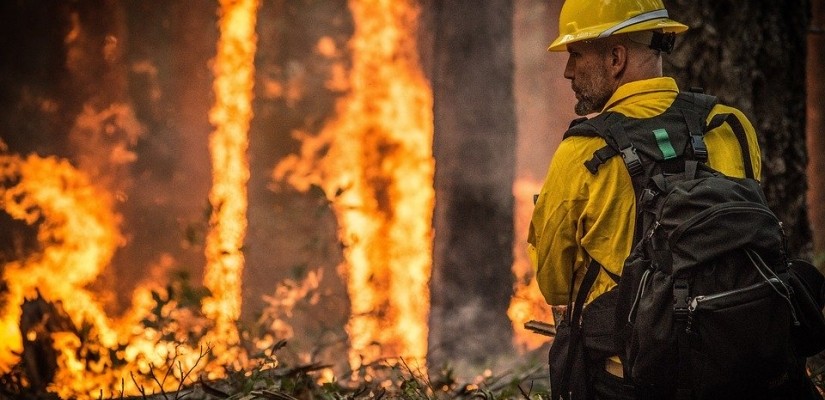 The High Risk of Bushfires in Australia
Since November 2019, sweeping bushfires have been ravaging Australia's coastlines in New South Wales, Victoria, Queensland, and Southern Australia. Relief from the catastrophic fires is likely not imminent, as summer temperatures in Australia peak in January and February, increasing the risk of heatwaves, droughts, and bushfires. News reports state that, by early January 2020, land the size of South Korea (about 10 million hectares or 100,000 km²) had been consumed by the fires, affecting approximately a third of the country's population. Australia's Bureau of Meteorology declared nationwide temperatures in December 2019 the highest on record, reaching as high as 49.9 °C (121.8 °F) in Nullarbor in Southern Australia on December 19. These extremely hot, dry summer days allow fires to start and spread quickly, creating grave economic, ecologic, and medical risks that insurance companies, businesses, and the government must bear.
Insurance Risk
The Insurance Council of Australia, which is the representative body of the general insurance industry in Australia, has received over 5,000 insurance claims from victims of the bushfires by early January 2020, amounting to A$375 million. An estimation of the total claims by the Insurance Council of Australia, however, suggests double this amount, reaching over A$700 million as more exact calculations of the affected areas can be made once they are accessible. To put this sum into context, the Black Saturday fires in Victoria in 2009 are known as the most devastating bushfires in Australian history and produced insurance claims of approximately A$1.2 billion. Total costs of this historic bushfire amounted to roughly A$4.4 billion.
Bushfires over the course of 2019 have resulted in vast financial losses, costing Australia millions of dollars. The following table provides an overview of these loss values, as calculated by the Insurance Council of Australia. The overall loss value in 2019 amounts to at least A$693,679,104.00.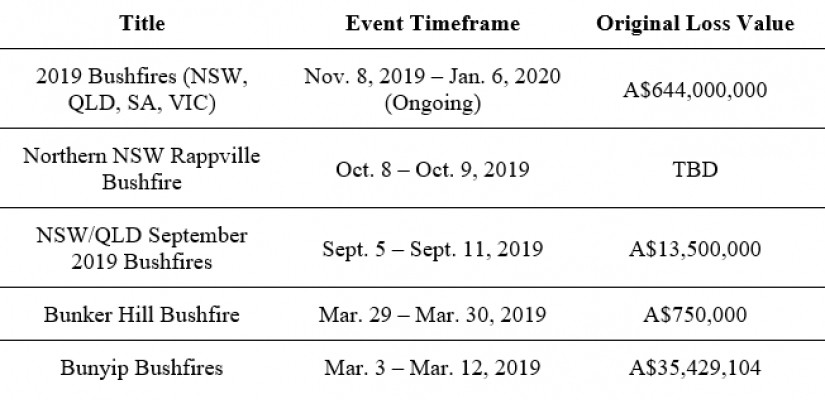 Economic Costs
Bushfires can negatively affect a state economy in various ways. They can create medical costs, devastate facilities and homes, reduce productivity, and disrupt infrastructures like public transport, telecommunications, electricity, and water supply. Projections indicate that the Australian government's A$5 billion budget surplus will diminish significantly, and economic growth could tumble by 0.25% to 1% of GDP, resulting in a loss ranging in the billions.
If large cities with strong economic productivity are affected by bushfires, we can expect daily disruption costs totaling millions. Even smoke from bushfires can cause serious disruption, as we have seen in economically-vital Sydney, which has been enveloped by a thick smoke cloud as a result of the fires. The risk of such natural disasters is that workers and employees may become ill and require medical attention. Furthermore, these people may not be able to reach their workplace because of disruptions in the public transport network. Furthermore, fire emergencies will set off alarms and completely halt business operations to ensure the safety of workers and employees.
In order to contain and extinguish bushfires, additional investments are needed. Australian Prime Minister Scott Morrison announced that the government will invest A$76 million in mental support for victims, A$20 million on the procurement of four additional waterbombing aircraft, A$11 million on the National Aerial Firefighting Centre, and A$2 billion on a newly established National Bushfire Recovery Agency. Regarding human resources, volunteers and army reserve personnel have fought fires in Australia to limit costs thus far, yet extreme fires may demand a change of strategy as more personnel become necessary to contain the fires. While international support can provide additional relief, the Australian government should review its crisis management strategy and expenditures, particularly since the scale of bushfires is likely to be aggravated by climate change in the future.
A Conclusion on Bushfires in Risk Management
Natural catastrophes, such as bushfires, are disaster risks that can be assessed based on the exposure of a company to the risk, the vulnerability of the company, and the hazard created by the disaster. It is important to gain an understanding of the probability and impact of a natural catastrophe in order to evaluate risk levels. Bushfires in Australia are a very common occurrence during summer months and leave behind extensive damage. As seasonal occurrences, bushfires are relatively predictable. Groups like the Commonwealth Scientific and Industrial Research Organisation (CSIRO), Australia's national science research agency, are working to better understand and predict bushfire behavior. Such research can improve the assessments of risk managers. In conclusion, Australian bushfires have a relatively high certainty of occurrence and produce a high risk in terms of impact, and therefore generate great economic losses and insurance costs. The certainty of their occurrence, however, grants Australia the opportunity to continuously observe and review risk and crisis management strategies for improvement.